Your Vote , Your Voice
Show Panelist
Anita Spencer – Tyrone "Behind The Scenes Guy" Jackson
Dr. Rogers Cain and Ms. Jocelyn Turner – Co-Host
Does Silence Rob Us Of Our Black History?
Here are a few reference to help you when talking about Black History:
https://www.thehistorymakers.org/
Teaching Your Child About Black History
By kindergarten, most children have heard of Dr. Martin Luther King, Jr. They are taught that he, like Mahatma Gandhi, was an advocate for peace and equality.
However, consider going beyond Dr. King. For example, teach your child about Rosa Parks, the seamstress and civil rights activist whose refusal to give up her bus seat to a white passenger ignited the Montgomery Bus Boycott. Her small act of nonviolent resistance helped to forge the way for transportation desegregation across the nation.
Her story is part of our shared American history. Instead of shying away from hard truths, parents can explain that a long time ago, people were separated by the color of their skin. Some people did not think that was fair, and men and women of all races united to make a change. This is a straight-forward example that teaches empathy, cooperation and the commonality of a shared goal. It is also a way to teach children how to connect their personal experiences with the larger world.
Television programming can also offer children windows into worlds outside their own. PBS Learning Media has a great lineup of short history lessons featuring former slave and abolitionist Sojourner Truth, scholar Dr. W.E.B. DuBois, and others.
In an article for PBS, children's book author Cheryl Willis Hudson offered these and other suggestions to help you connect your kids with Black history:
Buy a book by a Black author or illustrator and make it a part of your child's permanent collection. Books offer a fun and easy way to introduce your children to new cultures and to help them explore the experiences of people from different backgrounds.
Look for books that are inclusive and reflect the diversity of our communities. Books help illustrate that diversity is a natural part of everyday life.
When and if children ask questions about race, don't sweep differences under the rug. Give children simple, concrete explanations when they have questions. Select books that affirm a valued place for all children. Try to find books that will help prepare children for the complex world in which they live.
Make sure your selections include contemporary stories. Celebrate Black culture and experiences, in addition to history, through picture books, chapter books, and poetry.
Seek the suggestions and guidance from knowledgeable cultural experts, booksellers and librarians. Coretta Scott King Award-winning titles are always a good place to start for excellence in text and illustrations.
For parents of mixed race or transracially adopted children, you must do your homework. You are your child's first teacher, so educate yourself about your child's cultural history. Stoke your child's curiosity about their place in the world and their ancestor's role in the establishment of this country. Young children believe what their parents tell them so take advantage of their eagerness to learn and show them how to appreciate differences. While you have their undivided attention, introduce your budding train conductor to Engineer Elijah McCoy, inventor of an oil lubricant for steam engines for locomotives and ships, and aviator Bessie Coleman, the first African American civilian issued a pilot's license.
There are so many notable Americans to learn about. Beyond the internet, don't forget my favorite resource: the public library. During themed months (like Women's History Month or Asian American Heritage Month), most local libraries display related picture books. They may also schedule read-alouds about different cultures and offer scheduled lecture series for parents or activities for children.
In the end, people are more alike than different. And if children learn this simple truth early, the world will be the safe and interesting place that Dr. King dreamt about.
Nefertiti Austin is a certified PS-MAPP trainer who co-leads classes for adoptive and foster parents. She blogs about adoption at mommiejonesing.com, and writes about adopting as a single woman of color. Austin lives with her children in Los Angeles.
GEORGE LUCAS EDUCATIONAL FOUNDATION
Search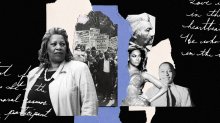 Illustration by Arsh Raziuddin for Edutopia (Brigitte Friedrich/Süddeutsche Zeitung Photo/Alamy Stock; U.S. National Archives and Records Administration; MARKA/Alamy Stock; WENN Rights Ltd/Alamy Stock; Everett Collection Inc/Alamy Stock)
CULTURALLY RESPONSIVE TEACHING
Teaching Black History in Culturally Responsive Ways
Black history is American history, and it should be taught throughout the year across the curriculum—not confined to a single month.
By Rann Miller
February 7, 2020
As Black History Month kicked off, I was reflecting on my time as a student. My experience all those years ago was similar to that of most Black children today: mostly White teachers teaching Black history primarily in February.
I was told of Martin Luther King Jr., Harriet Tubman, and Frederick Douglass. I heard very little of Malcolm X, the FBI's campaign against civil rights leaders, the Rainbow Coalition put together by the Black Panther Party's Fred Hampton, or Hampton's assassination. I learned about the struggles of my enslaved ancestors, but not about Gabriel Prosser, Denmark Vesey, or Nat Turner.
I was taught about the marches and firehoses in Alabama, but I had to teach myself about the acts of terrorism committed against Black people in Rosewood, Florida; Tulsa, Oklahoma; and Wilmington, North Carolina.
Today, teachers continue that tradition, telling students about Barack Obama, Oprah Winfrey, Beyoncé, and LeBron James, as well as King, Tubman, Douglass, and other inspirational figures. These folks are to be honored for their accomplishments—but we should not ignore lessons that explore the impact of racism in the Black experience. It's imperative that teachers not reinforce a milquetoast version of Black history that is anti-Black because of its erasure of painful truths.
No matter what subject you teach, there are ways you can infuse Black history into your daily lessons in a way that is prophetic and purposeful.
Start of newsletter promotion.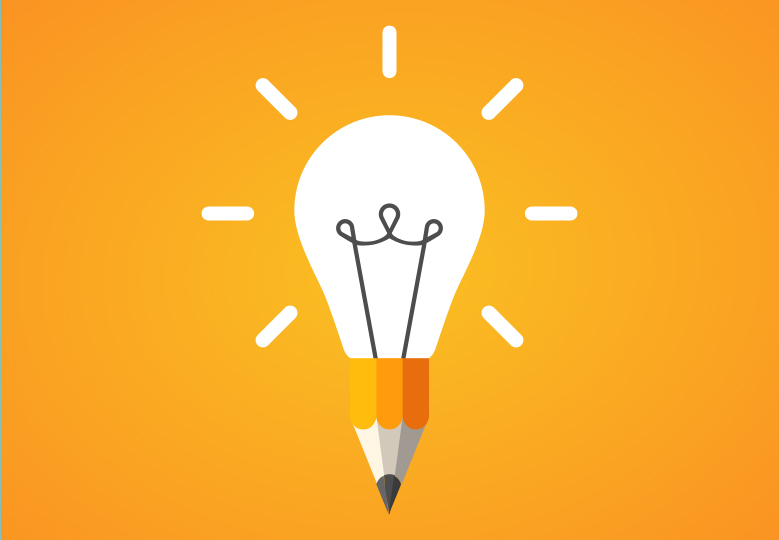 Your Weekly Eureka Moment
Subscribe to the Edutopia Weekly newsletter—full of innovative teaching and learning strategies that will work with your students. Get articles recommended for you.Subscribe now
End of newsletter promotion.
BLACK HISTORY IS AMERICAN HISTORY
Infuse Black history into the curriculum year-round: Tom Joyner, the recently retired syndicated radio host, used the phrase "Black history 365 days a year" to mean that Black history isn't a gimmick meant for one month out of the year, with a student assembly or a potluck dinner with traditional Black foods. Black history is American history. Students should learn throughout the year and throughout all disciplines about the accomplishments, experiences, and perspectives of Black people.
How can teachers infuse Black history into their teaching? Here are some simple examples for core content areas:
English: Provide students with texts—poetry and fiction, and nonfiction as well—written by Black people. Teach students about the Africanisms in American English when discussing or teaching grammar.
Mathematics and science: Refer students to famous Black scientists and mathematicians throughout your course. Discuss how Black people showed an understanding of agricultural science in how they used soil in both West Africa and South Carolina to grow rice. Also, you can study the mathematical patterns of African art, and reference the rich history of math in sub-Saharan Africa in the areas of geometry, graphs, and numerical systems—you can engage students by playing African games like mancala that have a strong math component.
Social studies: Incorporate primary and secondary source documents by or about Black people into student reading lists. Create an assignment in which students interview Black history scholars to discuss the Black experience in America throughout a social studies course.
Use texts by Black authors, in every discipline: In history class, I learned from textbooks written by White scholars. I read the works of Mark Twain, Charles Dickens, and William Shakespeare in English class, but never Langston Hughes, Maya Angelou, or Toni Morrison. According to a recent report, more than eight of every 10 books that New York City students are likely to see in class from preschool to eighth grade are written by White authors. Students should be introduced to texts by Black authors that speak to Black experiences, Black perspectives, and Black accomplishments. These authors remind children and adults that Black excellence is not confined to athletics and entertainment. How can we promote the academic excellence of Black children without introducing them to Black intellectuals—individuals they can see themselves someday becoming?
Teach students about important Black figures—especially local ones: Teaching about Obama and King is a good start, but you can introduce students to hidden figures as you work through your content during the school year.
If you're a middle school science teacher and your students are interested in cultivating a community food garden, teach them about scientists like George Washington Carver, who developed methods to prevent soil depletion. If you're an elementary teacher teaching students how to tell time, introduce them to Benjamin Banneker, who created the first American clock. Teaching students about important people is a great thing—even better is doing it in the context of your lessons, rather than in a set-aside month.
And if you teach students about the history of slavery in America, remember to include two topics in particular: the economics of slavery, and acts of resistance and rebellion by Black people. The enslavement of Africans built this nation's economic foundation, and the entire nation benefited, so resistance and rebellion were met with brute force. Nevertheless, enslaved Africans and their enslaved descendants resisted through sabotage, running away, and outright rebellion and revolt—hundreds of revolts happened during African enslavement. Communities of formerly enslaved Black people along the East Coast fought to maintain their freedom and to free other enslaved people.
One task of teachers in the classroom is to acknowledge and honor students' humanity—and that means acknowledging and honoring Black humanity. That starts with acknowledging the good, the bad, and the ugly of our history as a nation.
SHARE THIS STORY
FILED UNDER
---
ARTS INTEGRATION
Lesson plans for Ava DuVernay's films and television series guide students to explore social justice issues in the classroom.
February 21, 2023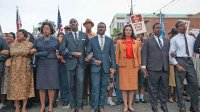 How can teachers ensure that students learn from films and television series that they teach in class? Ava DuVernay, whose films and series include Selma, Colin in Black & White, When They See Us, 13th, and Queen Sugar, wondered just that. Covering themes of Black family dynamics, race relations, and social justice issues in the United States, DuVernay knew that her works were screened in classrooms as a catalyst to inspire discussion. She saw an opportunity to contribute to the educational community. In 2020, ARRAY 101 was launched—a set of free and robust online social impact lesson plans or "learning companions" to accompany her films.
Lesson plans in each learning companion can be easily modified, remixed, and adapted by teachers to meet their students' needs. Each learning companion contains the following sections:Read Full Story
---
CULTURALLY RESPONSIVE TEACHING
Black History Month isn't only about pain—it can be a full-fledged celebration of accomplishments that have shaped America.
January 31, 2023
Each February, schools and organizations all over the United States celebrate Black History Month. This is a month when Americans of African descent are celebrated, their historic achievements highlighted. Often, stories of oppression and overcoming are centered, with heroes like Dr. Martin Luther King Jr., Rosa Parks, and other civil rights icons playing major roles. Other times, students are reminded of the heroic achievements of Harriet Tubman, Frederick Douglass, and other heroic actors from the period of enslavement. Although these are important parts of the African American experience in the U.S., we rarely connect that history to Black experiences and events that feel joyous and celebratory.
While using Black history lessons to fill in the gaps in civics and general curriculum is necessary, so is providing access to stories that do not see the Black experience as one rooted only in oppression and enslavement. Read Full Story
---
RESEARCH
Despite public skepticism about changing school start times, evidence from schools that have made the plunge seems clear: It leads to better-rested, more motivated students.
February 17, 2023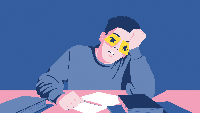 For most of her 15 years teaching science at Roosevelt High School in Seattle, Tracy Landboe accepted that many students in her first period class would fall asleep with their heads down on their desks. It had nothing to do with her instruction. It was simply that her first period started at 7:30 a.m.
"Basically, I was teaching zombies," Landboe told Edutopia. Read Full Story
---
ADMINISTRATION & LEADERSHIP
Observations that aren't part of teachers' annual evaluations are less stress-inducing and provide a great opportunity for quick feedback.
February 17, 2023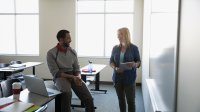 Teachers' pedagogical practices, cultural competencies, and knowledge of the content have an astronomical effect on every student's academic and social and emotional success. For this reason, leaders must develop a system and structure for conducting fruitful, informal teacher observations.
So, what makes an informal observation fruitful? An informal observation is fruitful when the feedback is shared in a timely fashion and when the feedback explicitly conveys glows (positives), grows (areas that need improvement), attainable next steps, and quick wins. Fruitful, informal observations are also driven by a clearly communicated rubric and an observation tool. The aforementioned ensures that teachers are clear on what defines their pedagogical practices as sprouting (basic), blossoming (proficient), and pollinating (distinguished). Read Full Story
---
ADMINISTRATION & LEADERSHIP
A veteran elementary principal shares how she and her staff transformed their school into a National Blue Ribbon School.
By Elisa Brown
February 17, 2023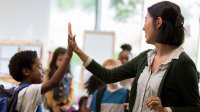 Change didn't come easy at P.S. 249, a high-poverty school in Brooklyn. In the early 2000s, our school was failing in every possible way. There was no instructional focus or guidance from leadership—two principals had been hired and fired within a year. The staff was composed of new teachers lacking adequate training and a handful of disgruntled veteran educators. Morale was at an all-time low, teacher turnover at an all-time high, and the culture was polarized.
Now, after two decades of my leadership, P.S. 249 is a thriving, nationally recognized Blue Ribbon School. While the transformation has been an uphill journey, I have reflected on what initiatives and strategies made it possible. I have boiled down my decades of school turnaround work into a few steps that leaders can follow to positively transform their schools.Read Full Story
---
TECHNOLOGY INTEGRATION
Teachers can use tools like ChatGPT as one strategy in their efforts to teach students how to think critically and write effectively.
February 16, 2023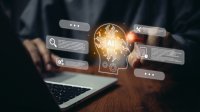 As a learning specialist who, along with supporting the students in my charge, works side by side with colleagues in all content areas, I want to encourage faculty as they consider the impacts of tools such as ChatGPT. For English and social studies teachers, for example, this just might be their "calculator moment": As math teachers had to adapt their teaching when calculators became ubiquitous, so, too, must teachers of courses that are rich with reading and writing, now that AI tools are at students' fingertips.
December 2022 saw a spike in the number of articles, blog posts, and think pieces musing about what ChatGPT and the like might—OK, do—mean for education. Many rang alarm bells, and a few pointed out the shortcomings of the tool as currently configured. I spoke to our division's director of technology just before our winter holiday about what's being talked about in his professional circles regarding these artificial intelligence tools. Read Full Story