Your Vote , Your Voice
Show Panelist
Tanielle Brew, MD – Zalika Nisbeth, MD akaKr. Zee
Dr. Rogers Cain and Ms. Jocelyn Turner – Co-Host
Important Links:
Hubbard House Jacksonville – https://www.hubbardhouse.org/ Sistahood in our neighborhood https://www.the32209experience.org/
Physician burnout can affect your health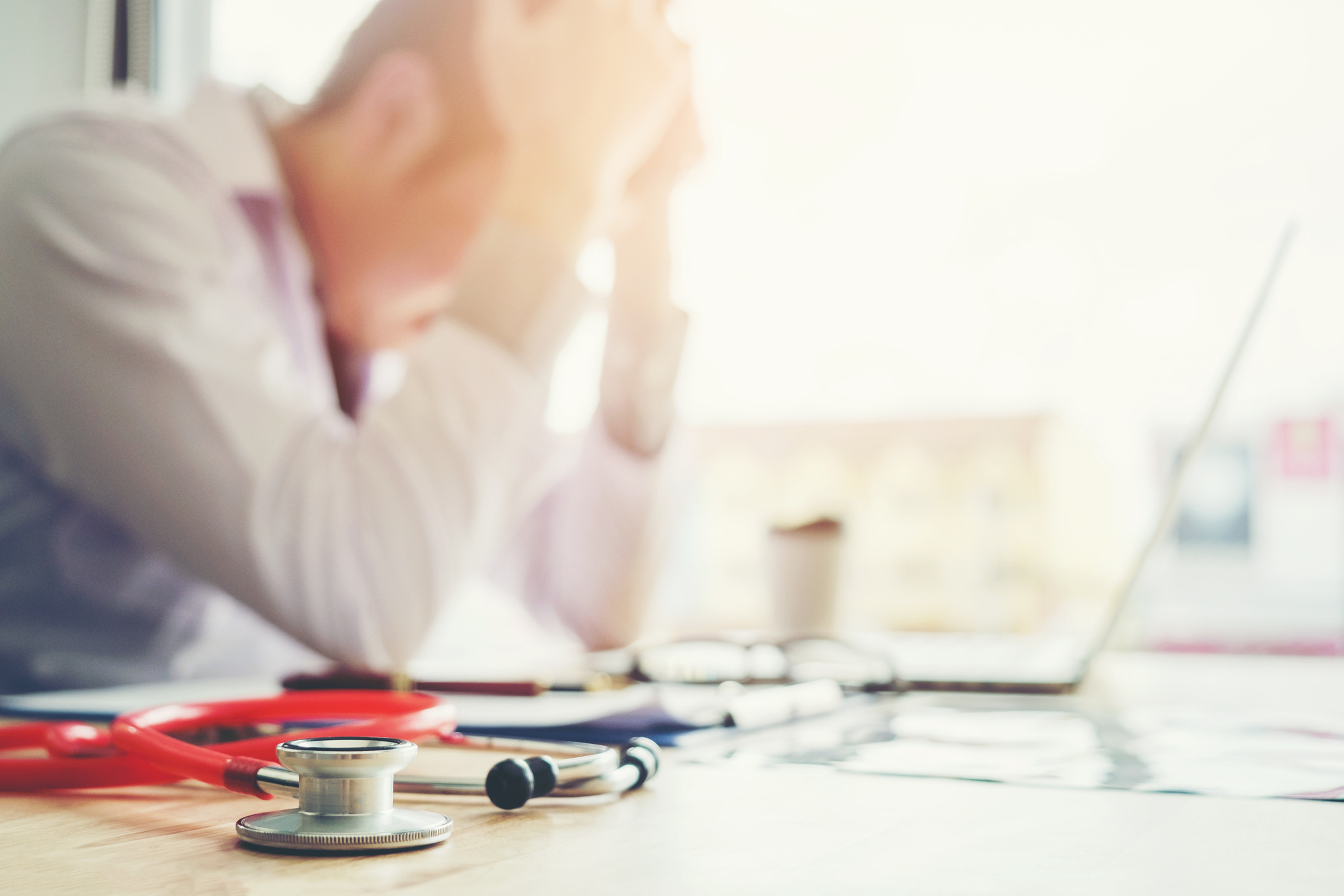 June 22, 2018
There is a severe and worsening epidemic of physician burnout in the United States, which threatens the health of doctors and patients alike. What is burnout? How does it affect doctors? And, how can this affect patient care? Finally, what can be done about this issue, to breathe life and energy back into the field of medicine?
What does physician burnout look like?
Burnout among doctors is generally described in terms of a loss of enthusiasm for one's work, a decline in satisfaction and joy, and an increase in detachment, emotional exhaustion, and cynicism. It manifests in disproportionately high rates of depression, substance abuse, and suicide. Annually, approximately 400 physicians take their own lives in the United States.
A 2016 study published by the Mayo Clinic showed a high and increasing rate of physician burnout. Of the almost 7,000 physicians who responded to the survey, 54.4% "reported at least one symptom of burnout in 2014 compared with 45.5% in 2011." Satisfaction with work-life balance also declined, but this is no huge surprise given that, as a whole, physicians are working more and earning less. In other words, more than half of US physicians are experiencing at least some degree of burnout.
Moreover, many doctors are leaving medicine mid-career, which, among other things, causes patients to have to start all over again with a new doctor. Other physicians are cutting back their hours, which makes it more difficult for patients to obtain timely appointments. These developments are expected to worsen the projected shortage of physicians that our country will be facing over the next few decades, estimated to be up to 100,000 doctors by 2030, according to a study commissioned by the American Association of Medical Colleges.
Why are doctors so burned out?
The causes of physician burnout are complex, but have to do in part with increasing workload, constant time pressures, chaotic work environments, declining pay, endless and unproductive bureaucratic tasks required by health insurance companies that don't improve patient care, and increasingly feeling like cogs in large, anonymous systems. Parasitic malpractice lawyers are always circling, which causes us to waste an enormous amount of time with defensive documentation. The transition from paper charts to electronic medical records, which seemingly were designed to maximize revenues instead of clinical care, has created a technological barrier between doctor and patient, and between doctors.
Physician burnout compromises patient care
There is good evidence that physician burnout results in more expensive healthcare and less satisfied patients. Demoralized doctors can suffer from impaired memory and attention, and poor decision-making. They can be distracted, and their communication with both patients and peers deteriorates. They feel less empathetic and engaged in the outcomes of their day-to-day decisions. Their bedside manner worsens. They can make mistakes, sometimes devastating. While this is a difficult phenomenon to measure, a 2014 study of intensive care doctors showed that emotional exhaustion among physicians predicted a higher mortality rate among the patients they cared for. And according to a research review in The BMJ from 2017, "there is moderate evidence that burnout is associated with safety-related quality of care."
What can we do to address physician burnout?
Sadly, hospitals and other medical institutions have tended to address the problem of physician burnout merely by giving their doctors inspirational talks about "resilience," patting them on the shoulder, and then sending them back into their deteriorating clinical lives with no material change in circumstances. Sometimes they throw in a yoga mat. The physician then continues to suffer in silence, leaves medicine, or encounters some other tragic endpoint.
Recently, there appears to be more awareness of, and concrete attention being paid to, this issue. Some medical schools and hospitals have started including physician wellness in their curriculums, and even dedicating some faculty time to help monitor and ensure the well-being of their staff physicians.
The problem of physician burnout is complex and there is no easy solution in sight. In my personal experience as a primary care physician over the last 20 years, the insurance companies won't flinch at wasting a doctor's time, even deliberately, if it will increase their profits. Hospitals will choose a medical record system that prioritizes their revenues, and which has the doctor facing the screen and pecking away, over one that allows for doctors and patients to speak with each other, comfortably, face to face. As with most things, it comes down to the bean counters, and the bottom line.
Addressing the human cost of physician burnout
The losers in all this, equally, are the doctors and the patients. If you are receiving substandard care from a seemingly burnt-out or distracted doctor, you obviously need to report it, and advocate for your own care. However, it is also critically important to remember that doctors are people too, not robots. As with most things in life, empathy is a two-way street. Doctors and patients need to put their heads together and try to find a way to regain what is being lost in terms of the once strong doctor-patient bond. We need to reclaim healthcare, for the good, and the safety, of us all.
f marginalized communities.
---
Voting is one of the cornerstones of a democracy. It is a formal act of expression that allows people to choose their government officials.
In the United States of America, the country's history as a democratic nation is often celebrated within its educational system and on national and global political stages. However, since its establishment as an independent nation in 1776, the United States has systematically denied members of particular groups, such as Black people, women, and non-white immigrants, of their right to vote.
While actions such as the Voting Rights Act of 1965 were passed to rectify these inequitable practices, the history of voter disenfranchisement continues into the present day. Across the country, voter suppression tactics such as purging, or "cleaning up," voter rolls and limiting the number of polling sites in communities of color, continue to prevent historically marginalized groups from exercising their right to vote. This article reviews the history of voting in the United States, placing particular importance on who was granted access to suffrage and who was denied.
1776: Only Property Owners Can Vote
The Declaration of Independence is signed, establishing the United States of America as a democratic nation. However, the right to vote is restricted to property owners who were mostly white Protestant men over the age of 21.
1787: States Determine Who Can Vote
Due to a lack of consensus on federal voting rights, the details of who is and who isn't allowed to vote are left to the states. While some states such as New Jersey would grant some women and Black people the right to vote, most states follow the federal lead and allow only people with property, most of whom are white men, to vote.
1856: All White Men Can Vote
Property ownership is no longer a requirement to vote in any of the states, enfranchising all white men.
1868: Formerly Enslaved People Granted Citizenship
The 14th Amendment grants all persons born or naturalized in the United States, including formerly enslaved people, citizenship. Voters are strictly identified solely as males.
1870: Government Cannot Deny the Right to Vote Based on Race
The 15th Amendment is passed, stating that federal and state governments cannot disenfranchise people based on race. Some states figure out other ways to restrict Black people from voting, such as imposing a tax to cast a ballot and requiring literacy tests. Intimidation tactics and violence also were used.
1876: Indigenous People Cannot Vote
The Supreme Court rules that Indigenous people are not citizens and therefore ineligible to vote.
1882: Chinese Immigrants Cannot Vote
The Chinese Exclusion Act denies people of Chinese ancestry the ability to become naturalized citizens, making them ineligible to vote.
1920: White Women Are Granted the Right to Vote; Black People Continue to Face Barriers
The 19th Amendment is passed, granting white women the right to vote. Black women (and men) continue to face numerous barriers to exercise their right to vote. In 1926, four Black women are beaten by election officials while attempting to register to vote in Birmingham, Ala.
1952: Asians Are Granted Voting Rights
After nearly a century of denying Asian people U.S. citizenship, the McCarran-Walter Act grants people of Asian descent citizenship and voting rights.
1965: Voting Rights Act of 1965
The Voting Rights Act is passed after years of protests and marches demanding an equal right to vote for Black people. The act forbids states from enacting discriminatory laws that restrict people's ability to vote, such as literacy tests and ballot taxes. It also grants federal oversight on the voting process in states with a history of voter discrimination.
1971: Voting Age Is Lowered to 18
The 26th Amendment lowers the voting age from 21 to 18. The amendment was a result of pressure from Vietnam War protestors who argued that if 18-year-olds were old enough to fight in a war, they should be old enough to vote.
1975: Voting Materials Available in Multiple Languages
Amendments are added to the Voting Rights Act that require voting materials be printed in multiple languages, granting access to voters whose first language is not English.
2000: Residents of U.S. Colonies Cannot Vote
A federal court determines that Puerto Ricans cannot vote in presidential elections despite being U.S. citizens. Other U.S. colonies such as Guam, American Samoa, and the U.S. Virgin Islands also cannot participate in presidential elections, nor are they granted representation in Congress.
2001: National Debate on Voting Rights for Returning Citizens
The National Commission on Federal Election Reform recommends that all states grant returning citizens the right to vote after completion of their criminal sentences. In some states, such as Vermont, incarcerated people never lose their right to vote. However, in many other states, particularly in the South, a person with a felony conviction is permanently disenfranchised and cannot vote in that state. This disproportionately strips low-income people of color of their voting rights.
2013: Supreme Court Weakens Voting Rights Act
A key part of the Voting Rights Act required states with a demonstrated history of racial discrimination to get federal approval if they wanted to change their voting laws. The Supreme Court eliminates this part of the act, claiming that the formula used to determine which states used racial discrimination was outdated.
2020: Voter Suppression Today
Across the country, voter suppression tactics such as purging voter rolls, limited polling sites, and gerrymandering — the practice of intentionally manipulating district boundaries for the purpose of establishing unfair political advantage — continues to restrict and undermine the voting rights of particular communities, such as Black, Indigenous, and people of color (BIPOC), people with disabilities, and students.
In 2018, 70 percent of Georgia voters who were purged from the voting system were Black. Counties with large populations of BIPOC have fewer polling sites and poll workers, leading to long lines and waiting times. Only 40 percent of polling sites fully accommodate people with disabilities, which may account for why one-third of voters with disabilities report difficulty with voting.
In states across the country, elected officials also can determine the weight of a vote by gerrymandering. Every 10 years, district lines can be redrawn to represent changes in the population. However, some states attempt to manipulate the outcomes of an election by dividing up and redrawing districts to give their political party an advantage.
History provides us with valuable lessons. As a nation, we should be working toward ensuring that all members of society can participate in our democracy. To protect your right to vote in upcoming election, visit the American Civil Liberties Union's Know Your Rights guide, which outlines your voting rights, how to access language assistance and disability-related accommodations, and how to resist and report voter intimidation at the polls.
For more information about voting initiatives at the University of Maryland, Baltimore, check out the UMB Votes webpage.
Rosemary Ferreira, MEd, is a program coordinator for UMB's Intercultural Leadership and Engagement Center.
Disclaimer: Elm Voices & Opinions articles reflect the thoughts or opinions of their individual authors, and may not represent the thoughts or values of UMB as an institution.